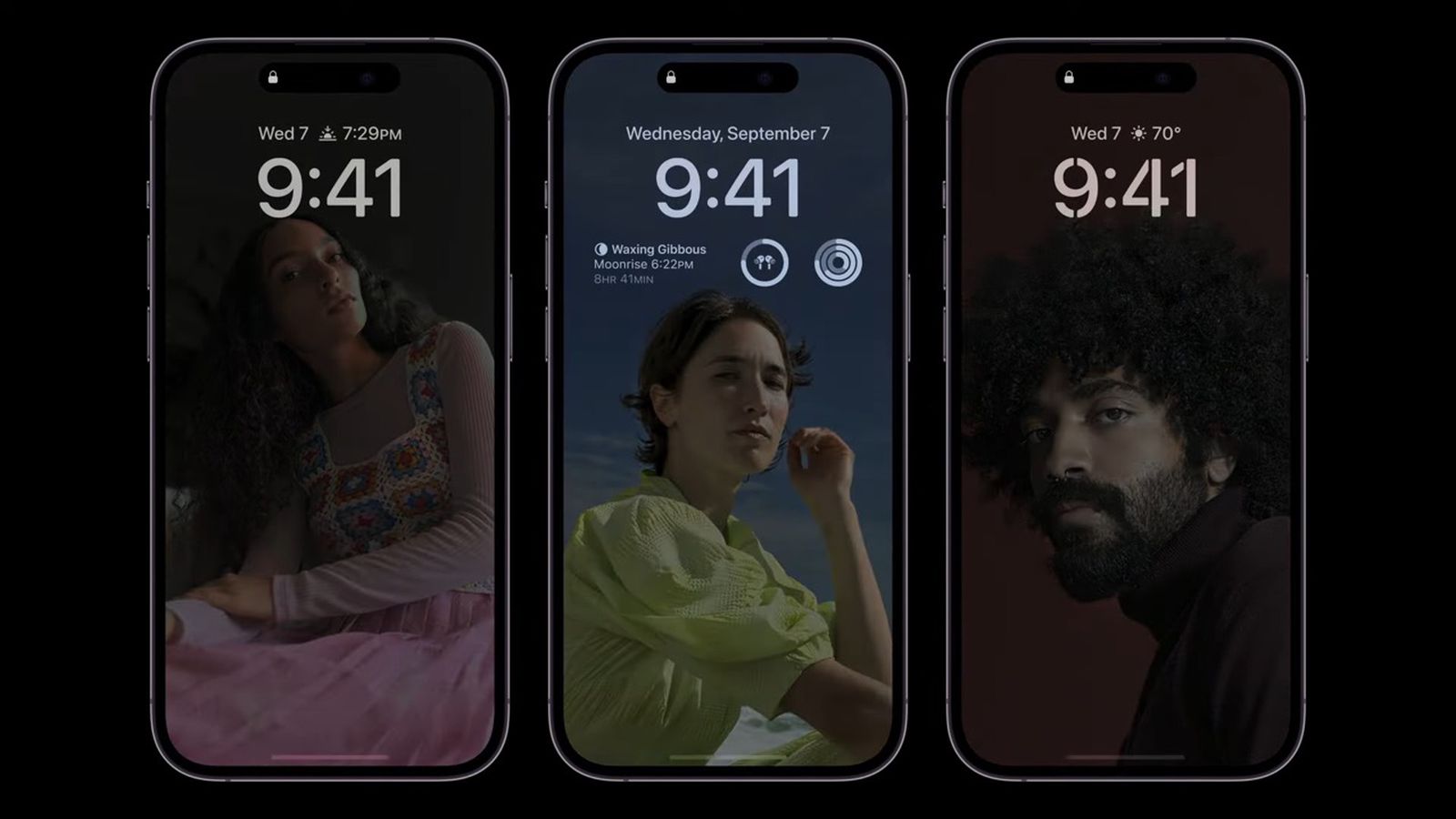 Reviews for the iPhone 14 Pro and ‌iPhone 14 Pro‌ Max have been published, offering a more detailed look at Apple's new high-end phones and all they have to offer, including an always-on display.
One detail confirmed today by the reviews is that the always-on display features no customization features, as it only displays a tinted version of a user's iOS 16 Lock Screen wallpaper, widgets, and Live Activities, if any are actively running. Users can't customize the always-on display, such as what information it chooses or whether it shows a darkened wallpaper or a black background.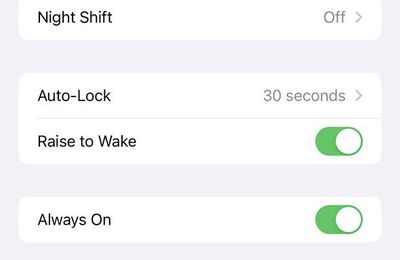 Users can, however, disable the always-on display entirely from within the Display and Brightness section of Settings. Reviewers noted that it's too early to tell whether or not the always-on display has a material impact on battery life, so we'll have to wait a few weeks before we know its effect.
The new ‌iPhone 14 Pro‌ and ‌iPhone 14 Pro‌ Max feature more power-efficient OLED displays with a variable refresh rate as low as 1Hz. This is just one of several power-saving features that the ‌iPhone 14 Pro‌ has for the always-on display. Today we learned from Engadget that in order to limit the impact of the always-on display on battery life, the ‌iPhone 14 Pro‌ prerenders individual frames for elements that predictably change, such as the time, and feeds them to the always-on display when appropriate.
As reported earlier this week, the ‌iPhone 14 Pro‌ intelligently detects if a user who's wearing an Apple Watch paired with the iPhone leaves the room, and when they do, it will disable the always-on display.
By disabling the always-on display when a user leaves the room, the ‌iPhone 14 Pro‌ saves battery life and helps safeguard privacy as the display doesn't show a user's wallpaper and widgets when they're not present.
Popular Stories
iOS 16 Launches Tomorrow: Six New Features Worth Checking Out
Apple is set to release iOS 16 this Monday, September 12, as a free update for the iPhone 8 and newer. iOS 16 includes plenty of new features, ranging from a customizable Lock Screen to the ability to temporarily edit or unsend iMessages. To install iOS 16 when the update is released, open the Settings app on your iPhone and tap General → Software Update. After you update your iPhone to…
Kuo: iPhone 14 Plus Pre-Orders Worse Than iPhone 13 Mini, Product Strategy 'Fails'
The iPhone 14 and iPhone 14 Plus have seen "bad" pre-order results, indicating that Apple's positioning of the two new standard models may have failed, according to Apple analyst Ming-Chi Kuo. In his -14-first-weekend-online-pre-order-survey-110411040b5d">latest post on Medium, Kuo explained that the iPhone 14 Pro and iPhone 14 Pro Max have seen "neutral" and "good" pre-order results…
All the iOS 16 Features You Won't Get Until Later This Year
There are usually multiple features that Apple is not able to finish before the first official release of a major new version of iOS, and this year looks to be no different, with a total of nine iOS 16 features now confirmed to not be present in the first public version of the new OS. Last year, SharePlay, Digital IDs in the Wallet app, and Universal Control were among a large number of…
iPhone 14 Battery Capacities For All Four Models Revealed Ahead of Launch
Apple does not advertise battery capacities for its new iPhone 14 lineup, but MacRumors has obtained this information from a Chinese regulatory database. Three out of four iPhone 14 models feature larger battery capacities compared to the iPhone 13 lineup, with the exception being the iPhone 14 Pro Max, which is equipped with a slightly smaller battery compared to the iPhone 13 Pro Max….
Apple Confirms iOS 16 Battery Percentage Display Not Available on Certain iPhone Models
Following iOS 16's public release, Apple has confirmed that users of older generation iPhone models will miss out on the ability to show their iPhone's battery percentage directly in the status bar. In an updated support document, Apple says that the new battery percentage display is not available on the iPhone XR, iPhone 11, the iPhone 12 mini, and the iPhone 13 mini. Apple provides no…