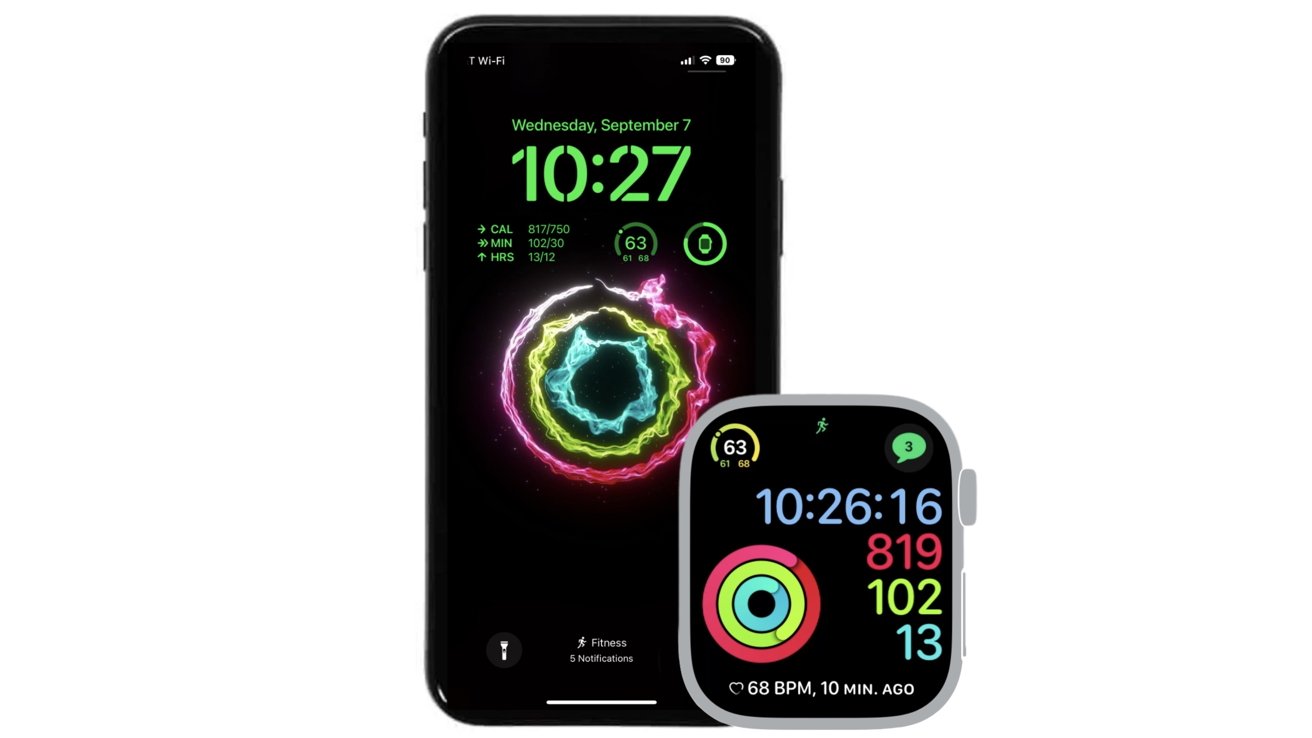 AppleInsider is supported by its audience and may earn commission as an Amazon Associate and affiliate partner on qualifying purchases. These affiliate partnerships do not influence our editorial content.

Staying active can be a hard task to stay on top of, but in iOS 16, Apple allows you to create the ultimate fitness-based customization layout throughout your devices to help you stay on track. Here's how to do it.
You may have different Focus Modes for different actives – such as work, fitness, etc. — and Apple now allows you to set your wallpaper on not just your iPhone, but your Apple Watch as well, to correspond with which Focus Mode you have active. These options now allow you to be able to give your device a distinct look to it while also allowing specific information to be showcased to you when activating a certain Mode.
Before setting up a customizable fitness interface
Before getting into the customization aspect of your Fitness Focus Mode, you want to make sure that the changes will sync across all of your devices once activated. Here is how to do that.
Go into Settings

Select "Focus"

Below all of the Focus Modes you have created, navigate towards "Share Across Devices"

Switch this option ON
By toggling on this option, all of your devices will seamlessly switch to the Focus Mode you enacted. This will allow you to have a fluid experience across all of your devices when you want to be shown only specific information while in a certain Focus Mode.
How to set a fitness-based Focus iPhone background
Before setting everything up and connecting them to be able to automatically enact when starting a workout, you must configure your Fitness Lock Screen.
Here is how to configure your Lock Screen to configure it for your workout needs.
Hold down on the Lock Screen until you enter Customization Mode for it

Tap on the plus sign on the bottom right of the screen, or swipe over to the end of your Lock Screen selections and tap on "Add New"

Select the photo and text font you want to showcase when working out

Tap "Add Widgets" under the clock to get a variety of widgets to choose from. Since this wallpaper will correspond with the Fitness Focus Mode, adding the activity widgets would be most ideal.

Select "Done" when finished creating your wallpaper.
There are two ways to be able to connect your wallpaper to the Fitness Focus Mode.
Open the Lock Screen customization menu

Tap on "Focus" under the wallpaper you want to set

Select "Fitness" to set that background to when you start that Focus Mode
Go into Settings and select Focus

Tap "Fitness"

Then tap "Choose" under the iPhone icon in the Customize Screens section

Select the background you created and it will be set to the Focus Mode
Now that you have your Lock Screen all set up, it will be able to give you important information at a glance through the widgets you selected and power you up with the background you decided to promote during your workouts.
When finished with your workout of choice, the Focus Mode will automatically turn off and switch to your neutral Lock Screen that is set when no Focus Mode is active.
How to set a fitness-based Home Screen
While the Lock Screen is the screen you may look at more (to see the time or your progress on your Activity rings), the Home Screen can also be set and customized specifically for the Fitness Focus Mode.
You can select the current Home Screen(s) you use (or the ones you have hidden), or select from pre-made ones that your device offers when choosing. Here is how you can select certain Home Screen(s) to be set.
Go into Settings and select Focus

Select Fitness from the list of Focus Modes you have made

Select "Choose" under the Home Screen icon (the middle icon) under the Customize Screenssection

Select the Home Screen(s) you want to be set when the Fitness Focus Mode has turned on

Select "Done" on the upper right when finished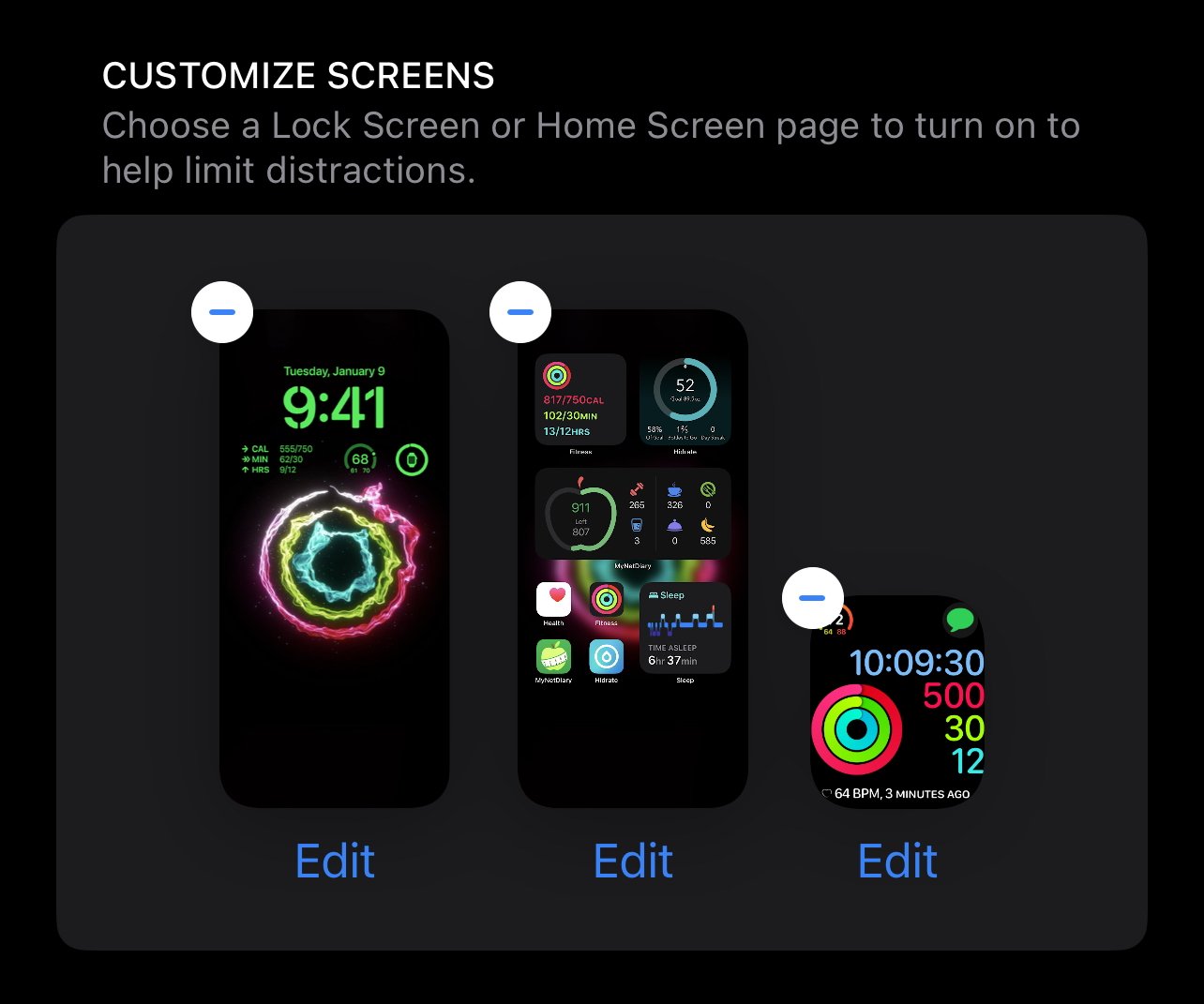 Three different screens you can customize
When complete, only the Home Screen(s) you selected will be available when in the Fitness Focus Mode.
Depending on the widgets and apps you have on the Home Screen, being able to input, track, and glance at your fitness metrics has never been easier. This can help you push yourself further to hit goals and stay on top of your fitness journey.
You can change and customize what is displayed on the Home Screen(s) at any time and even when the Focus Mode is active.
How to set a fitness-based Focus Apple Watch background
The Apple Watch is the best companion to have with the iPhone when doing workouts. Using your Apple Watch to record your workouts will automatically turn on the Fitness Focus Mode.
Before starting your workout(s), make sure to set up the watch face and the compilations you prefer to be set when doing your workout(s). Here is how to select and set your watch face.
Go into the Watch app on your iPhone

Select "Face Gallery" at the bottom middle of the screen

Select the face watch you want to be set when doing a workout (the Activity section is primarily the best face for workouts. Nike+ watch faces are also available too with watchOS 9).

Configure your watch face with the compilations you want to be shown (depending on how many complications you can add, showing the progress of your activity rings, your heart rate, and any other fitness features you have synced on your watch may be most ideal).

Go into Settings and select "Focus"

Tap on the Fitness focus

Under Customize Screens, select "Choose" under the Apple Watch icon (the last one to the right)

Select the watch face you just created (it will be the last watch face on the list)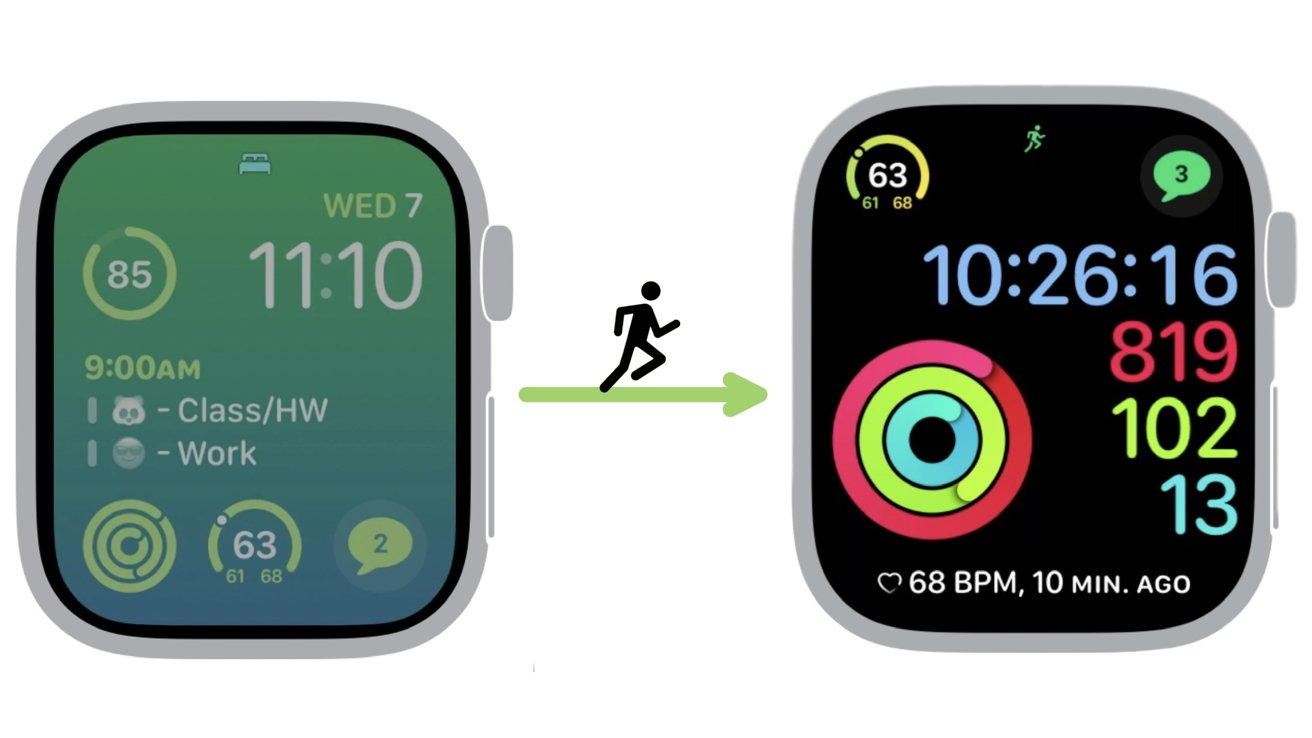 Go from one Apple Watch watch face to another
Now that you have selected the watch face you want to be set when working out, your Apple Watch will automatically switch to that watch face at the beginning of the workout.
When you conclude the workout, the Focus Mode will turn off and your original watch face will be set.
Stay active, close your rings
Staying active and on top of your health is not always the easiest task to do, but with the help of the iPhone, Apple Watch, and – especially – Focus Mode, it does make it a whole lot easier and more intuitive.
Being able to focus on one category in your life makes it easier for you to accomplish the goals you set for yourself when in it. Fitness Focus Mode paired with the customized and tailored Lock Screen, Home Screen(s), and Apple Watch watch face you created and chose can help push you to complete the goals you may have set for yourself. It truly is a game-changer and a great tool to utilize.
iOS 16 and watchOS 9 will be available on September 12, 2022.