Amazon QuickSight is a serverless, cloud-based business intelligence (BI) service that brings data insights to your teams and end-users through machine learning (ML)-powered dashboards and data visualizations, which can be accessed via QuickSight or embedded in apps and portals that your users access. This post shares the top QuickSight features and updates launched in Q2 2022 categorized into embedding, Amazon QuickSight Q, BI, and admin features.
Embedding
QuickSight offers a new embedding feature:
1-click public embedding – QuickSight now allows you to embed your dashboards into public applications, wikis, and portals without any coding or development. Once enabled, anyone on the internet can start accessing these embedded dashboards with up-to-date information instantly, without server deployments or infrastructure licensing needed! To learn how to empower your end-users with access to insights, visit Amazon QuickSight 1-click public embedding.
API-based domain allow listing  – QuickSight now supports API-based allow listing of domains where QuickSight data visualizations can be embedded. With this new capability, developers can easily scale their embedded analytics offerings across different applications for different customers quickly without any infrastructure setup or management. To learn more, visit Scale Amazon QuickSight embedded analytics with new API-based domain allow listing.
QuickSight Q
You can take advantage of the following updates in Q:
Programmatic question submission – Q can now accept full questions as input without requiring users to enter them when used in embedded mode. This new feature allows developers to create questions as widgets at appropriate placements on their web applications, making it easy for users to discover the capability to ask questions about data within the current context of their user journey. To learn more, see Amazon QuickSight Embedding SDK.
Experience Q before signing up – QuickSight authors can now try, learn, and experience Q before signing up. You can choose from six different sample topics to explore relevant dashboard visualizations and ask questions about data in the context of exploration to fully explore Q's capability before signing up. Get started with a free trial for QuickSight Q.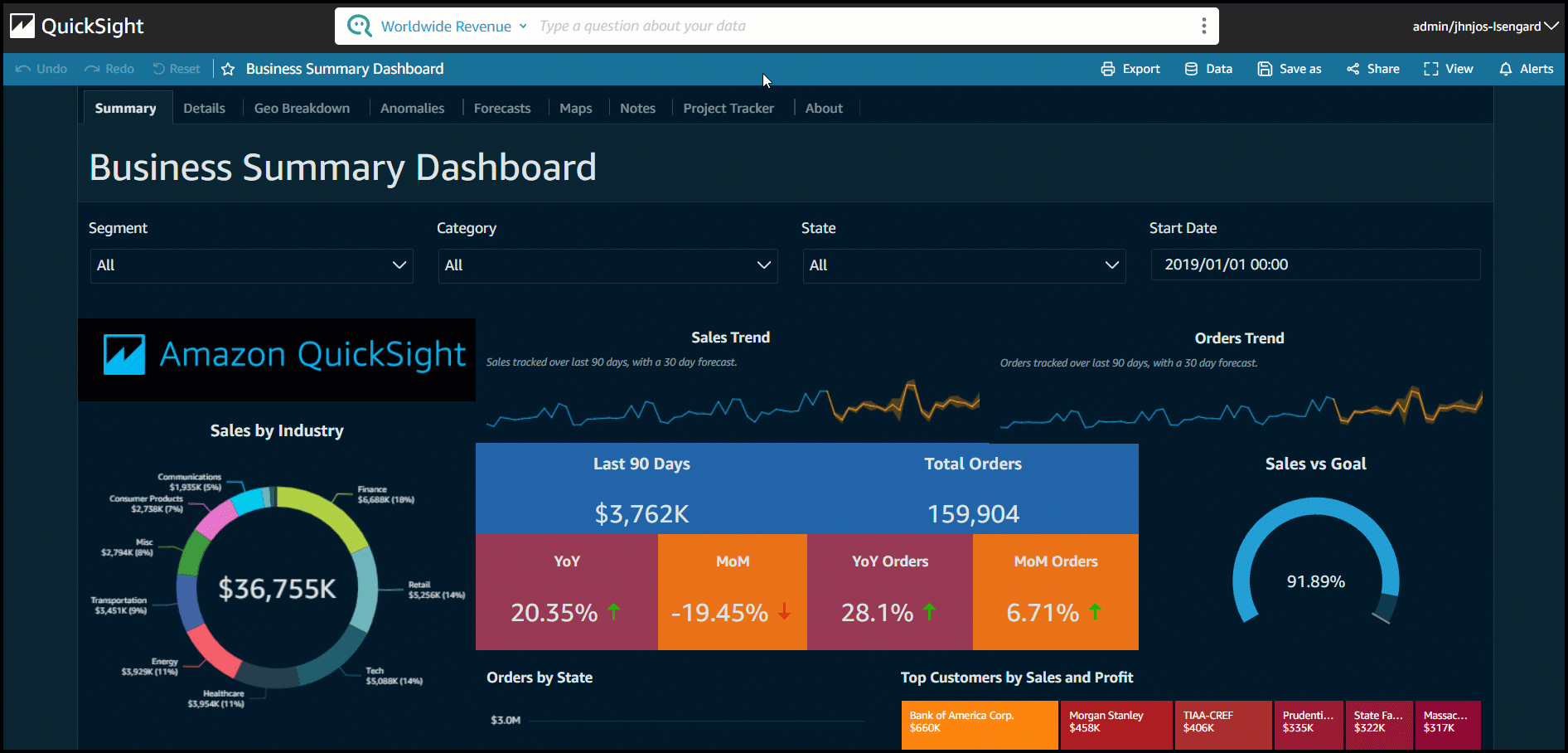 Business intelligence
QuickSight now offers the following BI features:
Table row and column size control – QuickSight now provides the flexibility for both authors and readers to use drag controller to resize rows and columns in a table or pivot table visual. You can adjust both row height and column width. To learn more, see Resizing rows and columns in tables and pivot tables.
Level-aware calculations – QuickSight now supports a suite of functions called level-aware calculations (LAC). The new calculation capability brings flexibility and simplification for users to build advanced calculations and powerful analyses. LAC enables you to specify the level of granularity you want the window functions or aggregate functions to be conducted at. For more information, refer to Using level-aware calculations in Amazon QuickSight.
Show or hide fields on pivot tables – QuickSight now provides authors the ability to show or hide any column, row, or value fields from the field well context menu on pivot table visuals. With the show/hide column feature, you can hide unwanted columns that are often used for custom actions for interactivity and provide a better visual presentation. For further details, visit Showing and hiding pivot table columns in Amazon QuickSight.
Rolling date functionality – QuickSight now enables authors to set up rolling dates to dynamically generate dashboards for end-users. You can set up rolling rules to fetch a date, such as today, yesterday, or different combinations of (start/end) of (this/previous/next) (year/quarter/month/week/day), and dynamically update the dashboard content To learn how to create date filters, visit Creating date filters in analyses.
Bookmarks in dashboards – QuickSight now supports bookmarks in dashboards. Bookmarks allow QuickSight readers to save customized dashboard preferences into a list of bookmarks for easy one-click access to specific views of the dashboard without having to manually make multiple filter and parameter changes every time you want to access your dashboard. For further details, visit Bookmarking views of a dashboard.
Custom subtotals at all levels – QuickSight now enables custom subtotals at all levels on pivot tables. QuickSight authors can now customize how subtotals are displayed in a pivot table, with options to display subtotals for last level, all levels, or selected level. This customization is available for both rows and columns. To learn more about custom subtotals, refer to Displaying Totals and Subtotals.
Admin
QuickSight offers the following new admin features:
Monitor deployments in real time – QuickSight now supports monitoring of QuickSight assets by sending metrics to Amazon CloudWatch. QuickSight developers and administrators can use these metrics to observe and respond to the availability and performance of their QuickSight ecosystem in near-real time. To learn how to monitor your QuickSight deployments in real time, visit Monitor your Amazon QuickSight deployments using the new Amazon CloudWatch integration.
Public API for account provisioning – QuickSight now supports APIs for QuickSight account creation. Administrators and developers can automate deployment of QuickSight accounts in their organization at scale. You can now programmatically create accounts with QuickSight Enterprise and Enterprise + Q editions. For more information on account creation, visit CreateAccountSubscription.
Conclusion
QuickSight serves millions of dashboard views weekly, enabling data-driven decision-making in organizations of all sizes, including customers like the NFL, 3M, Accenture, and more.
To stay up to date on all things new with QuickSight, visit What's New with Analytics!
---
About the Author
Sindhu Chandra is a Senior Product Marketing Manager for Amazon QuickSight, AWS' cloud-native, business intelligence (BI) service that delivers easy-to-understand insights to anyone, wherever they are.